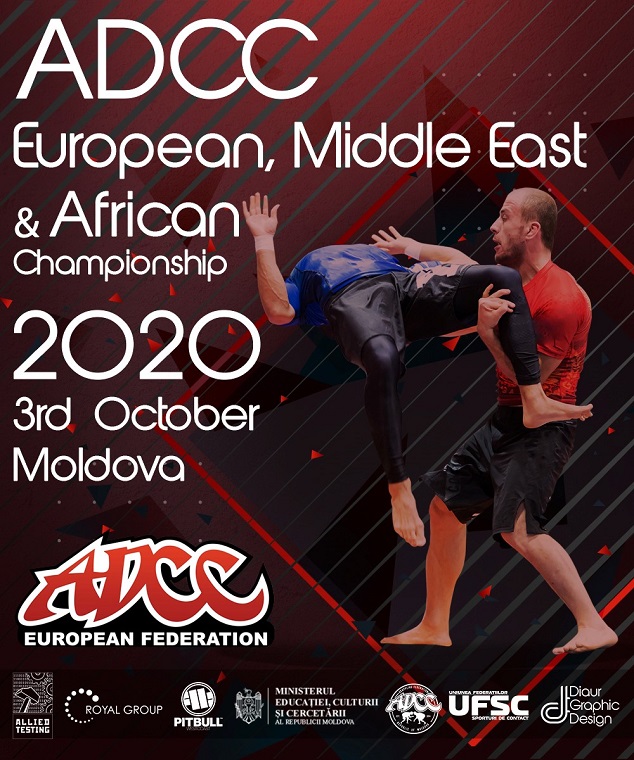 3rd October 2020
Address: Str. Alexandru cel Bun 1, Ciorescu, Republic of Moldova
Sport Hall, "Futsal Arena F.M.F."
Google Map link: 4VGR+VX Ciorescu, Moldova
WEIGHT CLASSES:
Professional:
Men: -65.9kg, -76.9kg, -87.9kg, -98.9kg and +99kg (no open division)
Female: -60kg and +60kg (no open division)
Masters: 65.9kg, -76.9kg, -87.9kg, -98.9kg and +99kg (no open division)
RULES:
www.adcombat.com/adcc-rules-and-regulations

PRIZES:
Professional MEN weight classes winners get ticket to ADCC World Championship 2021
Every weight classes' three best fighters get medals
The team that gets most of the points gets the "Best Team Cup"
Points: 1st place 5 points; 2nd place 3 points; 3rd place 1 point
REGISTRATION:
Send name, country (must have nationality from Europe, Middle East or Africa - must prove on the day of registration with passport or ID for Moldova athletes), academy, weight class and age division (adult or master) to: info@adcc.md
Registration: www.adcc.md/Registration
Start 1st August and deadline of registration is 20th of September, 23:59
REGISTRATION FEE:
Registration fee is 100€ or LEU 1950 (MDA)

Payment has to be paid before the last registration date to bank account or in cash at the address below, Message in the payment has to contain FIGHTERS NAME, TEAM and CATEGORY.
Account name: FEDERATIA DE GRAPPLING ADCC DIN REPUBLICA MOLDOVA
Bank: B.C."VICTORIABANK"S.A. fil.nr.17 Chisinau
SWIFT: VICBMD 2X457
Fiscal code: 1014620002125
Payment in EUR: MD97VI000000002224117788EUR
Payment in LEU (MDA): MD94VI000002224117788MDL
A.O. Federația de Grappling ADCC din R.M, mun.Chișinău, com.Trușeni,str.V.Alecsandri,5
WEIGH IN:
Weigh in 09.00 at the competition arena on the day of the event
The fights are scheduled to begin at 11.00

The venue is open at 08.00 on October 3rd for all competitors and coaches for registration process. Please bring your valid Passport or ID. ALL ATHLETES AND COACHES MUST BE ON TIME FOR REGISTRATION PROCESS! Don't be late! One fighter can bring one Coach for free, with a limit of three coaches per team. Coaches have to wear sport clothes and must understand English.
An official obligatory rules meeting for all athletes and coaches will be held at 09.30 on the center mat.
Referee seminar will be held on October 2th at 18.00 at: Sport Club AMATIKA, Address: str.Stefan cel Mare 196/2, Chisinau, Republic of Moldova.
All interested contact: Marko Leistén / Petrachi Eugeniu
E-mail: marko.leisten@pp.inet.fi / info@adcc.md

Door for spectators is open at 10.00. Spectators entrance ticket: fee is 2.5€ or 50 Lei (MDA)

Athletes must be present for weigh-in when the division is called. Athletes, who are overweight will be automatically disqualified and cannot compete.

No refund of competiton fees in any case of wrong registrations, not showing up for fight or being disqualified for overweight or not being at the registration and/or weigh-in or any other reasons.

A list of competitors will be published on September 29th on ADCC Facebook page and www.adcombat.com Please check, if you are listed and if you are in the right division.

September 25th 12.00 p.m. (noon) is the final date for any changes in the lists. To change your division etc. please e-mail info@adcc.md No e-mail, sent later than the deadline will be considered.
Final Brackets will be published on October 2nd on the ADCC Facebook page and www.adcombat.com

Please check the Event Page on Facebook for up-to-date news and info.
Event information: info@adcc.md and CELL NR: (+373) 79991777

Organised by ADCC European Federation & ADCC Moldova Federation